Digital / Offset Printing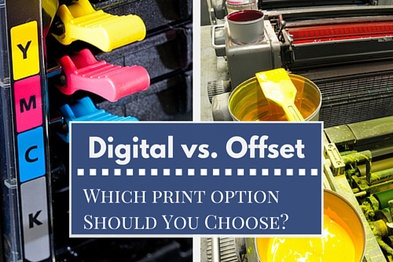 Digital printing is the reproduction of digital images on physical surface, such as common or photographic paper, film, cloth, plastic, etc. It can be differentiated from litho printing in many ways, some of which are; * Every impression made onto the paper can be different, as opposed to making several hundred or thousand impressions of the same thing from one set of plates, as in traditional methods. * The Ink or Toner does not absorb into the paper, as does conventional Ink, but forms a layer on the surface. * It generally requires less waste in terms of chemicals used and paper wasted in set up. * It is excellent for rapid prototyping, or small print runs which means that it is more accessible to a wider range of designers.
Perfect for small jobs, we offer both full-color and black and white digital printing. Our black and white digital printer offers speeds up to 85 pages per minute on both standard papers and cardstocks. It also has bindery capabilities including stapling, hole-punching and saddle stitching (magazine style sorting and binding). Our Color machine features high quality image creation on both uncoated and coated stocks up to 130# cover / 350 GSM. See our price list for details.
See our digital printing gallery.
Offset Printing
Offset printing is a widely used printing technique where the inked image is transferred (or "offset") from a plate to a rubber blanket, then to the printing surface. When used in combination with the lithographic process, which is based on the repulsion of oil and water, the offset technique employs a flat (planographic) image carrier on which the image to be printed obtains ink from ink rollers, while the non-printing area attracts a film of water, keeping the non-printing areas ink-free.
Our pressroom features several presses equipped to complete any job. We use both traditional metal plates as well as polyester plates. We can print one, two, three, and four or more color jobs. Take a look at some of our recent work.
Labels
Labels and stickers are an easy way to get your brand's image in front of more people. From circles to square-cut labels, ovals to gold-embossed seals, we can create whatever specialty shaped stickers or labels you need. For the most impact, your labels should work in conjunction with your overall marketing plan. We'll be happy to help you design something unique or work with a design you bring us. Use your labels for both fun and function, as additions to your direct mail, as special reminders or even for giveaway items. Whatever your product or project demands, Abracadabra can deliver.
Labels (catalog link)